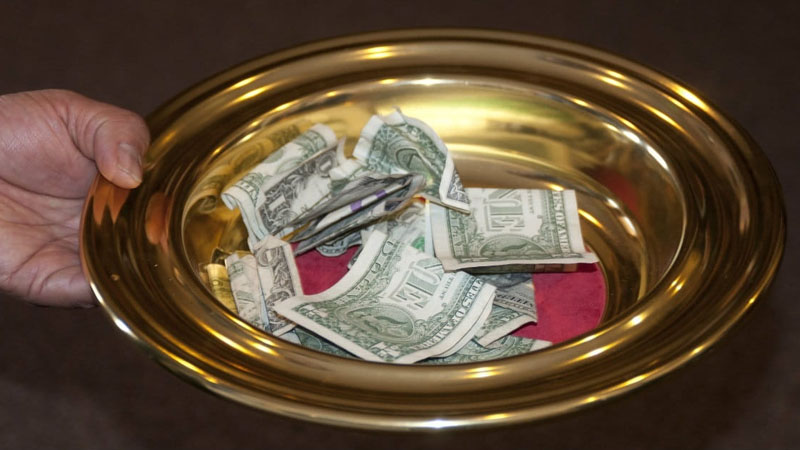 I came across a story today on ABC News.com entitled, "Gospel of Wealth' Facing Scrutiny" which focuses not only on the recent U.S. Senate probe headed by Senator Charles Grassley of Iowa into a select group of televangelists' financial practices, but what has been coined the "gospel of wealth" as well. Of particular interest to me is the story of a Cindy Fleenor who bought into the gospel of wealth message only to be disappointed.
"Be faithful in how you live and how you give," the television preachers said, "and God will shower you with material riches." This is the message that poured into her living room via television day after day from a variety of televangelists.
The 53-year-old accountant from the Tampa, Florida area pledged $500 a year to Joyce Meyer, whose frank talk about recovering from childhood sexual abuse was so inspirational. She also gave to faith healer Benny Hinn and a local preacher-made-good, Paula White.
However, the blessings did not come. Fleenor ended up borrowing money from friends and payday loan companies just to put food on her table.
At first she believed the explanation given by televangelists themselves – her faith was too week. "I wanted to believe God wanted to do something great with me like he was doing with them," she said. "I'm angry and bitter about it. Right now, I don't watch anyone on TV hardly."
This leads me to question the motivation for her giving. Was she giving because the Bible instructs us that we should tithe on all our income as well as give offerings besides and to support the work of God being conducted through these various ministries? Or rather was her motivation to gain a blessing or even riches in return?
Now I firmly believe that Christians should tithe and by tithing I mean at least 10% of their income. That is what "tithe" means – a tenth.
In fact, the Bible reveals that everything we have belongs to God. Nothing we have is our own, not even ourselves. We are simply stewards of God's "stuff." Psalms 24:1 tells us, "The earth is the Lord's, and all it contains, The world, and those who dwell in it." Regarding the tithe, God is simply asking us to give back 10% of what is already His and allows us to live on the 90% that remains.
In all reality, God does not even need our 10%. He owns everything! Rather, He wants our trust as money is typically the closest thing to our heart. If a Christian is obedient to tithe 10% or more of their income, what they are really saying is, "I trust You with my finances, Lord ."
That is not to forget that ministries do need income to function. However, the real heart of the issue is, "do we trust God not only with our eternal souls (salvation), but with our finances as well?"
In light of this, one should give to the work of God out of obedience rather than to gain something in return. What if that were God's attitude? What could we give Him in return when He already owns everything? The answer is nothing. God gives to saint and sinner alike because it is His nature to give without expecting anything in return. He wants His children to have the same attitude towards giving.
Now, regarding the "gospel of wealth," I am all for the blessing of God. I want to bless my children with good things. How much more does God who is perfect and righteous?
However, that does not mean that God is going to make all His children rich. He promises to provide for us and encourages us not to worry about the things of this life such as clothing, food and shelter, but rather to seek His kingdom first. However, He never promised to make all His children filthy rich.
In fact, I would venture to say that a vast majority of Christians would be ruined if they came into extreme wealth which may be the very reason why God keeps many away from it. I myself have seen Christians come into money and forsake God in the process. And to what profit is this if you have all the wealth in the world but forsake God in the process, placing your eternal soul in danger of condemnation?
I believe God gives wealth to those whom He can entrust with it. "What about all the Christians who are mis-using their wealth?" Keep in mind that just because God trusts someone with wealth doesn't ensure that they will be found trustworthy. Christians who are not good stewards of the wealth given to them will have to give an account to God. He may even decide to strip them of their wealth in this lifetime (i.e. Jim and Tammy Baker).
Back to my original point – if Cindy Fleenor's motivation for giving was to get something in return, then her motivation was flawed from the beginning and may be the reason why she has been so disappointed. The lesson to be learned here is that we need to have a proper attitude when giving to the local church or other ministries. To help accomplish this, keep the following points in mind:
Nothing you have is yours own anyway – it is all God's.
Giving tithes and offerings besides demonstrates your obedience and faith in Him.
If God did nothing more than to save our souls from eternal damnation, He has given us way more than we ever deserve.
This is the start to a healthy attitude in giving. It does not guarantee that if you have this attitude that God will make you rich. However, it will allow you to avoid the disappointment that Cindy Fleenor and others like her have had to deal with when they are giving to God for all the wrong reasons.
David Wallace is a search & social media marketer who lives in Ahwatukee, Arizona with his lovely wife. Interests & hobbies include Christianity, musicianship, all things Disney, and roller coasters to name a few.