The Works of Charles Spurgeon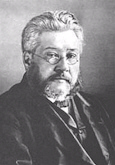 This section contains an archive of sermons and papers by Charles Spurgeon, commonly known as C.H. Spurgeon. Born June 19, 1834, Charles was remembered as a British Reformed Baptist preacher who still remains highly influential amongst Christians of different denominations today. In fact, he is still known as the "Prince of Preachers" among many. Besides his many spoken and and written works, he founded the charity organization now known as Spurgeon's which works worldwide with families and children, as well as a famous theological college which after his death was called after him: Spurgeon's College. His sermons were translated into many languages in his lifetime. We are happy to make them available here.
Adoption: The Spirit and the Cry
We do not find the doctrine of the Trinity in Unity set forth in Scripture in formal terms, such as those which are employed in the Athanasian creed; but the truth is continually taken for granted, as if it were a fact well known in the church of God.
Beauty for Ashes
In the midst of our present Christian service, my brethren, when I trust all of you have resolved to come to the help of the Lord—to the help of the Lord against the mighty—we would bid the silver trumpets of gospel promise sound aloud, that the hosts of God as they march on in battle array may feel their pulses quickened and their souls cheered.
Fallen Angels a Lesson To Fallen Men
We should not confine our attention to God's dealings with men, but we should observe how he acts towards another order of beings—how he dealt with angels before man had become the second sinner.
Our Lord's Triumphant Ascension
Thou hast ascended on high, thou hast led captivity captive: thou has received gifts for men; yea, for the rebellious also, that the Lord God might dwell among them.
The Danger of Unconfessed Sin
It is well known that in ordinary cases grief which is kept within the bosom grows more and more intense. It is a very great relief to shed tears; it gives a vent to the heart. We sometimes pity those who weep, but there is a grief too deep for tears, which is far more worthy of compassion; we ought most to pity those who cannot weep.
The Old, Old Story
There is a doctor of divinity here to-night who listened to me some years ago. He has been back to his own dwelling-place in America, and he has come here again. I could not help fancying, as I saw his face just now, that he would think I was doting on the old subject, and harping on the old strain; that I had not advanced a single inch upon any new domain of thought, but was preaching the same old gospel in the same old terms as ever. If he should think so he will be quite right.
The Secret of Failure
"And when he was come into the house, his disciples asked him privately, Why could not we cast him out? And he said unto them, This kind can come forth by nothing, but by prayer and fasting."
The Sweet Uses of Adversity
And will God contend with man? If God be angry, can he not take away the breath of his nostrils, and lay him low in the dust of earth? If the heart of the Almighty be moved unto hot displeasure, can he not speak in his anger, and will not the soul of man sink into the lowest hell?
The True Christian's Blessedness
We have here the description of a true Christian, and a declaration of that Christian's blessedness. We have him first very succinctly, but very fully described in these words—"Them that love God, them who are the called according to his purpose." These two expressions are the great distinguishing marks whereby we are able to separate the precious from the vile, by discovering to us who are the children of God.