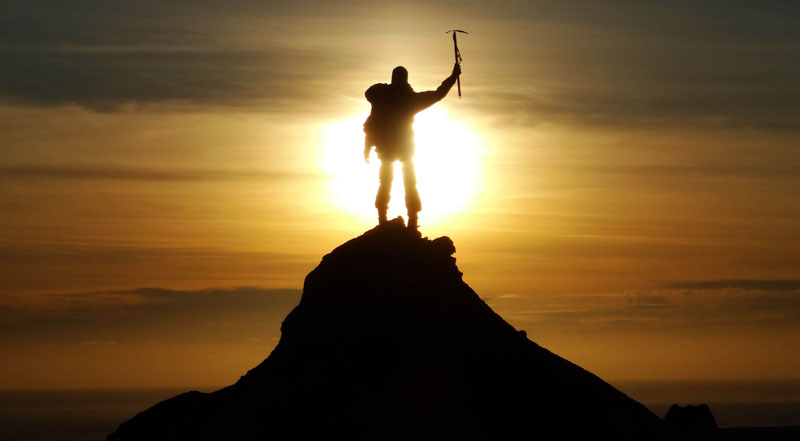 Romans Chapter 8 if probably one of my favorite chapters in the entire Bible. There is so much depth in the thirty-nine verses contained within.
It's where we get scriptures like, "There is therefore now no condemnation for those who are in Christ Jesus (8:1)," "all things to work together for good to those who love God, to those who are called according to His purpose (8:28)," and "Who shall separate us from the love of Christ? (8:35)."
In this post, I will break Romans 8 down into sections and expound a bit on what each one means to us as followers of Christ.
Romans 8:1: No Condemnation
Chapter eight opens with no condemnation and ends with no separation. The first verse doesn't say there are no faults, trials, etc., however it does say that there is no judgment hanging over the head of God's children. While most live in fear of judgment, there is nothing like the feeling of being acquitted because of Christ.
The difference between the sinner and saint can be found right here. The unrepentant sinner is living in the day and looking towards the night while the opposite is true for the Christian. It was once said that this life is the closest a Christian will ever get to Hell. On the other hand it is also the closest a sinner will ever get to Heaven. [John 5:24]
Romans 8:2-8: Law of the Spirit and the Law of the Flesh
Because we as Christians go through a process of regeneration when we are "saved," we no longer serve and obey the Law of the Flesh but the Law of the Spirit. This is how a true Christian is identified – whether they are seeking after the flesh or the Spirit. There are many today claiming to be Christians but their lifestyle itself proves them to be hypocrites.
Honest evaluations:
Do you get more excited over the latest movie released or what is going to be preached on Sunday?
Do you put more effort into your work/business or the things of God?
Do you get more excited when God blesses you financially or when a sinner is saved?
Do you spend more time watching television than reading the Bible and Christian related materials?
All of these fleshly things will only bring death in the end and a man with such a mindset cannot possibly please God.
Romans 8:9-14: Those Led By the Spirit Are the Sons (and Daughters) of God
When we become truly born-again, the things of the world become less and less important to us. We begin to look towards the things of eternity.
This is where the carnally minded and the Spiritually minded are separated. The former craves the things of this world where the latter is not satisfied by them. Therefore the man who is carnally minded really has not been born-again.
In the 10th, 11th & 13th verse there are 4 "ifs" – 1.) "If Christ is in you, though the body is dead because of sin, yet the spirit is alive because of righteousness." 2.) "if the Spirit of Him who raised Jesus from the dead dwells in you, He who raised Christ Jesus from the dead will also give life to your mortal bodies through His Spirit who indwells you." 3.) "for if you are living according to the flesh, you must die;" and 4.) "if by the Spirit you are putting to death the deeds of the body, you will live."
We are to do "all things" through the Spirit. By doing so we will have power with God and man. We will have victory over sin, over the world and over Satan – over every foe, trouble or obstacle that comes our way.
Romans 8:15-17: Adoption Into the Family of God – Joint Heirs With Christ
Most Christians don't truly understand what this entails. Many a time we have the attitude of the Prodigal who asked his father to just allow him a portion with the hired servants but the father would not hear of it. He brought out the fatted calf, gave him a robe, etc. – because he was a son. We are as well.
Why then do we walk about with our heads down – allowing minor set backs, bills, even the struggles of this life get us down? Not only are we the King's kids but we are joint heirs! That means we have riches we cannot even comprehend awaiting us and at our disposal now! How rarely do we tap into that.
Romans 18-25: Things To Come
As joint heirs we have so much to look forward to.
When Jesus was resurrected he said, "I ascend to My Father and your Father, to My God and your God."
He brought us directly into fellowship with God.
And with that we are to inherit His glory and all that goes along with it.
Where He is, we will be. As He is, we will be.
He has left us His peace and His joy.
I would rather have these things than all the money Bill Gates ever could get his hands on. We will sit with Him on His throne and rule and reign with Him. How disappointing it is to see some of the leaders we have today in power but in that day we will be in power.
Romans 26-27: The Spirit Helps With Our Weaknesses
Many reference these two verses to the "speaking of tongues." Whether you speak in tongues or not, the Spirit makes intercession for us as we don't have a clue most of the time. We often pray out of selfish ambition rather than truly seeking the will of the Father. These two verses assure us that the Holy Spirit will help us in this area.
Romans 8:28 – 30: All Things Work Together for Good
We are heirs in this present life. How often through our struggles, tribulations, etc. do we fail to remember this or act upon it.
It might of looked bad for Joseph when he was sold into slavery but look what God developed out of that. Or take Daniel – captured and taken away to Babylon at less than 20 years old but he was taken there to teach those people how to live.
I believe we will one day look back and thank God for every struggle and be ashamed of how we complained about them or overlooked what God was really trying to accomplish out of them. John Bunyan, who wrote what I consider to be "the best" book ever written – The Pilgrims Progress, thanked God for his time spent in the Bedford jail. Even Paul's imprisonment brought him before rulers and kings so he could proclaim the gospel.
How often do we complain about our tribulations rather seek an opportunity to further the kingdom. We need to remember who we are and what we have in Jesus. We are like Peter who asked the Lord what he was going to get for he had forsaken all – a few broken fishing nets and an old boat! What have we given up? Really?
Romans 8:31-32: God Be For Us, Who Can Be Against Us?
If God gave up the very richest jewel he had in Heaven, His Son, then I can ask Him for anything.
Romans 8:33: Who Will Bring a Charge Against God's Elect?
God has justified us which means we can stand before Him without spot or wrinkle.
Reminds me of a story where a father was at the beach with his children. His four-year-old son ran up, grabbed his hand, and led the father to the shore, where a sea gull lay dead in the sand. "Daddy, what happened to him?" the little boy asked. "He died and went to Heaven," the father replied. The boy thought for a moment and then said, "And God threw him back down?"
Even if that were true with the bird, it is not so with us. God will not bring charge against us after He has justified us.
Romans 8:34: Who Condemns?
Will Christ? Never. We are so familiar with John 3:16 that we overlook the 17th verse -"For God did not send the Son into the world to condemn the world, but that the world should be saved through Him."
Romans 8:35-39: Who Shall Separate Us?
I love the Phillips translation of this verse:
Who can separate us from the love of Christ? Can trouble, pain or persecution? Can lack of clothes and food, danger to life and limb, the threat of force of arms? Indeed some of us know the truth of that ancient text: "For thy sake we are killed all the day long; We were accounted as sheep for the slaughter." No, in all these things we win an overwhelming victory through him who has proved his love for us. I have become absolutely convinced that neither death nor life, neither messenger of Heaven nor monarch of earth, neither what happens today nor what may happen tomorrow, neither a power from on high nor a power from below, nor anything else in God's whole world has any power to separate us from the love of God in Christ Jesus our Lord!
That pretty much says it all. Not even the fiercest devil in Hell can separate us from God's love. It is that strong!
In summary, Romans shows us the following:
We are no longer condemned
We are to live by the law of the Spirit
Those led by the Spirit are the children of God
We are joint heirs with Christ
We have a bright future
And yet God helps us now
All things work together for good because God is for us
Nothing can separate us from God's love
So, whenever you are feeling down and defeated or that God doesn't love you anymore, you might want to open up Romans Chapter 8 and be reassured of who you are in Christ Jesus.
David Wallace is a search & social media marketer who lives in Ahwatukee, Arizona with his lovely wife. Interests & hobbies include Christianity, musicianship, all things Disney, and roller coasters to name a few.