"We are on the verge – within 10 years – of a major collapse of evangelical Christianity. This breakdown will follow the deterioration of the mainline Protestant world and it will fundamentally alter the religious and cultural environment in the West."
This bold statement comes from a recent article at The Christian Science Monitor entitled, "The Coming Evangelical Collapse." Sound outrageous? I'm not too sure about that.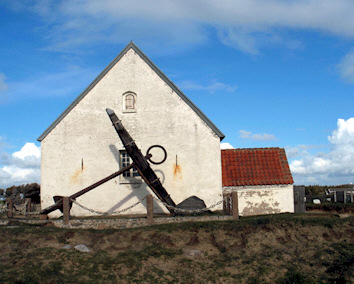 While I encourage any Christian concerned over the current state of Christianity in our world to give this article a thorough read, I thought I'd post a few excerpts with my own comments here.
Evangelicals will increasingly be seen as a threat to cultural progress. Public leaders will consider us bad for America, bad for education, bad for children, and bad for society.
We are already seeing that happen right now.
Bill Maher for example in his recent documentary "Religulous" makes his own stance that religion is dangerous to free people.
Another example is Christians who hold the value that marriage should be between one man and one women are being looked upon more and more as hate mongers and bigots against the gay movement.
Being against gay marriage and being rhetorically pro-life will not make up for the fact that massive majorities of Evangelicals can't articulate the Gospel with any coherence. We fell for the trap of believing in a cause more than a faith.
And why are many of today's Christians unable to articulate the Gospel in a coherent and easily understandable way? Because they don't understand it themselves.
Involvement in church activities is more about social interaction or practicing moral values then knowing the Creator of the Universe. Many Christians spend much more time "entertaining themselves" and "pursuing of the American dream" than studying scripture and spending time with God in prayer.
We Evangelicals have failed to pass on to our young people an orthodox form of faith that can take root and survive the secular onslaught. Ironically, the billions of dollars we've spent on youth ministers, Christian music, publishing, and media has produced a culture of young Christians who know next to nothing about their own faith except how they feel about it. Our young people have deep beliefs about the culture war, but do not know why they should obey scripture, the essentials of theology, or the experience of spiritual discipline and community.
While many churches are doing a decent job of entertaining children and teens, the fact that over 90% of youth stray from their faith once they enter college or finish high schools is solid proof that a proper foundation is not being laid in their lives.
Emphasis will shift from doctrine to relevance, motivation, and personal success – resulting in churches further compromised and weakened in their ability to pass on the faith.
This is already happening in more places then I ever care to think about. It is rare to find a church these days that teaches the Word of God. In its place are "how to" and "self help" talks that are merely sprinkled with scripture. Lacking is the church that will really dive into and study the Word of God and apply its truths to lives.
Is This Report Really Accurate?
In chapters 2 and 3 of the Book of Revelation (Bible), Jesus addresses seven churches which were in fact churches of that time but have also been considered by many to be seven "ages" of the church as well as seven "types" of churches. Most would agree that the church of Laodicea represents the church in the last days prior to the second coming of Christ.
Let's see if if Jesus' words accurately describe the current state of the church.
"(14) To the angel of the church in Laodicea write: These are the words of the Amen, the faithful and true witness, the ruler of God's creation. (15) I know your deeds, that you are neither cold nor hot. I wish you were either one or the other! (16) So, because you are lukewarm–neither hot nor cold–I am about to spit you out of my mouth. (17) You say, 'I am rich; I have acquired wealth and do not need a thing.' But you do not realize that you are wretched, pitiful, poor, blind and naked.

Revelation 3: 14-17
Sound familiar? An even more probing question – does it sound like your church?
You might be thinking at this point, "What's the use? It seems as if the church is doomed for failure." Not so quick with such thoughts. Jesus in th same chapter provides us the remedy.
(18) "I counsel you to buy from me gold refined in the fire, so you can become rich; and white clothes to wear, so you can cover your shameful nakedness; and salve to put on your eyes, so you can see. (19) Those whom I love I rebuke and discipline. So be earnest, and repent. (20) Here I am! I stand at the door and knock. If anyone hears my voice and opens the door, I will come in and eat with him, and he with me. (21) To him who overcomes, I will give the right to sit with me on my throne, just as I overcame and sat down with my Father on his throne. (22) He who has an ear, let him hear what the Spirit says to the churches."

Revelation 3: 18-22
That last statement "he who has an ear" is vitally important because if this post creates a stirring in you, then you may still have an ear.
On the other hand if you are thinking, "there's nothing wrong with today's church" or even "who cares," then you may be deaf to the Lord's call for repentance.
In this day and age where the church continues to compromise and conform to the world around us, Jesus is calling us to trust in His riches and not those of the world, to cloth ourselves in His righteousness and not rely on our own good deeds, and to open our eyes to the truth, not believing the lies of the world and culture that surrounds us.
Will you heed the call or merely be a statistic of something that is dying and once was?
David Wallace is a search & social media marketer who lives in Ahwatukee, Arizona with his lovely wife. Interests & hobbies include Christianity, musicianship, all things Disney, and roller coasters to name a few.